Have you ever left for a party in a rush and then checked your makeup in the car mirror? OH MY GOSH!!! Check out my eyebrows and stray hairs! Yeah, not good. No tweezers in sight.
Well, for 2009, make a resolution. Keep up on your eyebrows once a week. Pick a time when everyone will leave you alone and dedicate those five minutes to yourself to pluck away. Secondly, buy a $2.00 pair of tweezers and stash them in your vehicle. You never know when you will have an eyebrow emergency!
From pencil-thin to insanely bushy, see how stars like Madonna, Tyra Banks and Mariah Carey have tamed their unruly brows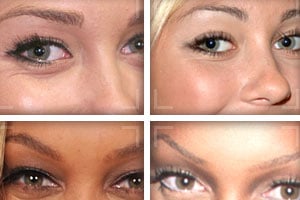 Brows hold center stage in the beauty world. Why? Because they can make an amazing difference in how you look. Check out our gallery to see the improvements your favorite celebrities have made to their brows over the years and decide if you should step up your brow maintenance. Even if you have to lay off the tweezers for weeks ... it's worth it.