After each winter holiday season, I place my newest makeup on the top of my makeup bag. I slowly shift the older makeup to my larger, back-up bag. Soon, I am only using my small bag and the older makeup is forgotten, like an old friend you never call.
My poor MAC, Bobbi and Chanel. No attention and no love.
This year, I vow to organize my makeup better so that I don't forget those older items that still work for me and are still fresh. I will also recycle the old! Don't forget that MAC cosmetics has a recyclying program in which you can earn a free lipstick, in the shade of your choice. Check out their website for more information at
http://www.maccosmetics.com/
.
It may be time to give your product stash the update it needs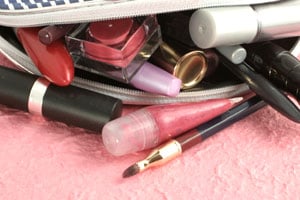 Is your cosmetics bag overflowing with dried-out mascaras, cracked eye shadows and a tube of lipstick from 2002? If so, it may be in need of an overhaul. Take this quiz to find out how much TLC it needs.